What's up Poke squad? We're taking a moment today to wash down our ØNO Grinds with some tasty brews.
Recently we took "Research" trip to Half Acre Brewery to get a taste of their new Extra Pale Ale named 'Tuna.'  We were so inspired by the deliciousness of their beers that we had to go out and grab a couple of 4-packs and do an impromptu beer pairing with our Poke.
Our Lakeview & Evanston shops are BYOB so peep the deets below to find the best ways to pair up Aloha Poke with Half Acre Beer!
Crunch & Daisy Cutter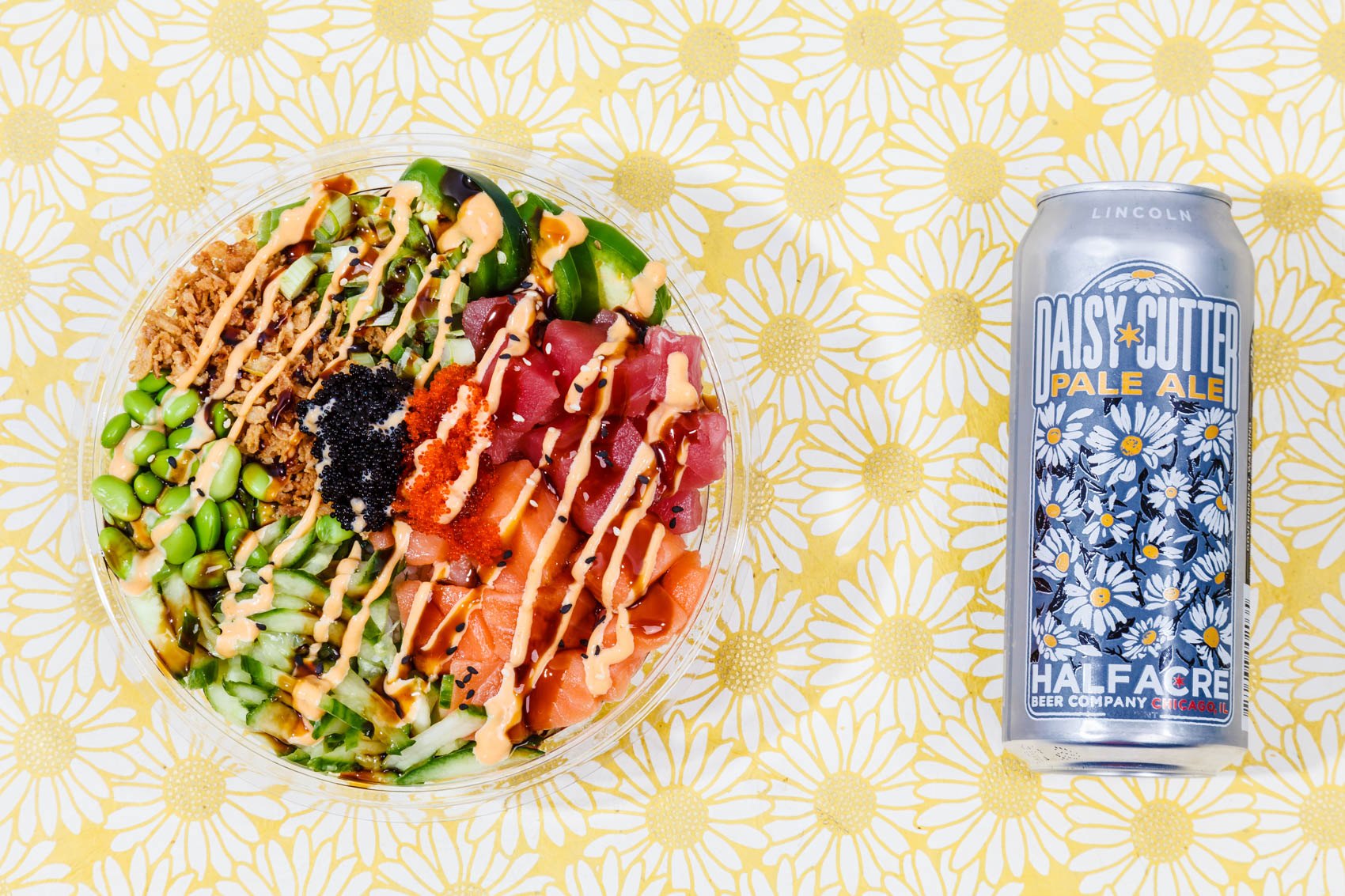 Our staples. Each of these items is proven to be loved by the everyday Chicagoan and has helped propel the brands one step closer to intergalactic domination.
The Crunch Bowl has everything:  Melt-in-your-mouth seafood, crunchy fresh veggies and the world's tangiest yet sweet combination of sauces that gets your taste buds craving another bite.  If you want to ride the flavor wave, our Crunch Bowl is your surf board.
And Daisy Cutter is your ocean.  Blended pine, citrus, papaya and mango coupled with Apparent biscuit, lingering, obscenely dry flavors make this dank brew an equally amazing flavor punch to the pallet!
Aloha & Tuna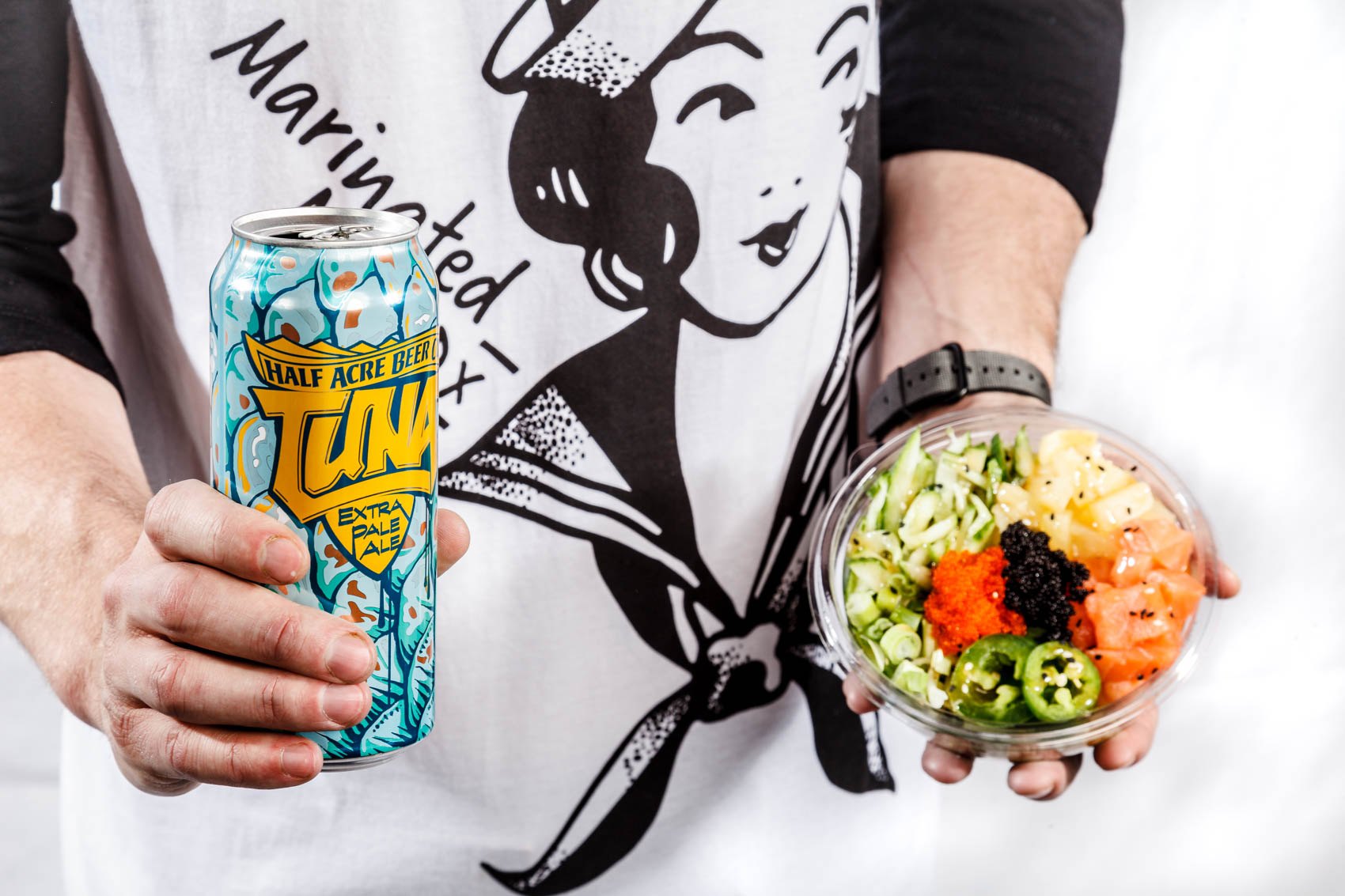 Well this is a story all about how our life got flip-TUNAED upside-down.  Our Aloha bowl is the Fresh Prince of the menu.  The sweet, citrusy Sesame Vin and airy bundle of cucumbers, jalapeños, maui onions, pineapples & scallions provide a happy heart.  Keep it on the healthy side with naked salmon/tuna and you'll be feeling alright at the bottom of a Big bowl.
You might also be feeling alright after a couple of Half Acre's Tuna Extra Pale. This is a SUPER sessionable (trust us) beer with each sip leaving you wanting another.  Made with green apple jolly rancher, watermelon, peach, guava.  A denser body to hold up to the sweeter finish. Lemon lime citrus zest, tropical fruit juices. We are going to drink this one all summer long.
Volcano & Leadfeather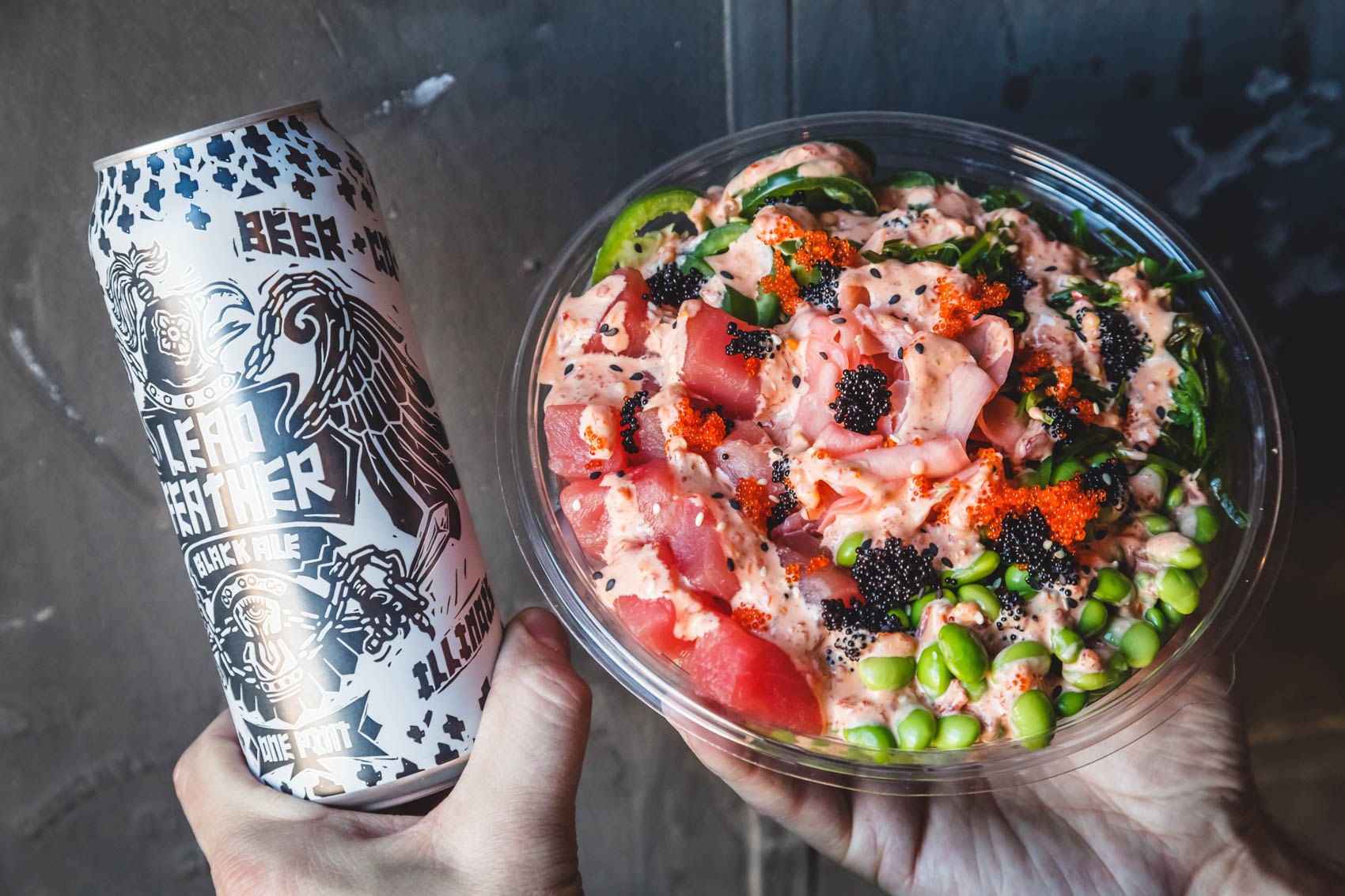 If you're bold enough for the heat of our Volcano Bowl then you most certainly will enjoy this combo. Drenched in a ring of our aptly named "Volcano" sauce, every bite of this bowl packs heat.  The good kind…right to your tastebuds with it's fuego of garlic chili flake & smooth creamy aioli💥🚀😱 –  – Order up!
We suggest putting out the fire in your mouth with Half Acre's Leadfeather Black Ale. The Oat aroma with baker's chocolate, slight milk chocolate, woody pine and raisin, resin, cracker, rich with a dry finish will make you forget that you're eating our spiciest bowl for moment.
Then you'll go back for another bite.  And another sip.  And another bite. Sip. Bite. Sip. Bite. Sip. Sip. Sip. Bite. Sip. Dancing……..Aaaaand I'll another take a Tuna.